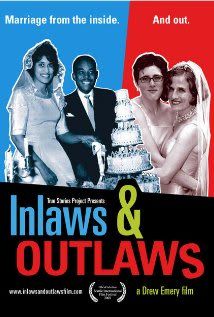 Church of the Open Arms, at 3131 N. Pennsylvania Ave, OKC, is planning several events for GLBT Pride Month.
Inlaws & OUTLAWS showing Tuesday, June 21st (Pride Week event)
6:00 pm – Shared potluck supper (optional)
6:30 pm – Inlaws & OUTLAWS
8:00 pm – Discussion (optional)
The moving documentary "Inlaws & Outlaws" features personal stories about love, relationship, commitment, and (GASP) marriage! … told by wonderful and colorful LGBT folks revealing their true selves for the education of all parents, children, friends, relations, and everyone still confused about issues of sexual orientation and gender identity. It's a classic. Church of the Open Arms is proud to host this showing in cooperation with The Peace House and Cimarron Alliance.
POSTER (PDF), please download and print for your group, school, house of worship, etc. More about the film.
Other events:
PRIDE WEEK SATURDAY: FAMILY CARNIVAL – 6/25, 10am-4pm
A Family Carnival, free of charge, will take place Saturday, June 25th, from 10 am to 4 pm, in the church's new parking lot. Activities will include a moon bounce, giant slide, wall climb, dunk tank, and obstacle course. Refreshments will include snow cones, water and sodas, popcorn, and cotton candy. Comfort stations will be available and volunteers will accompany interested visitors touring new developments inside the church.
ICE CREAM SOCIAL – AFTER SUNDAY'S 6/26 PARADE – at OPEN ARMS
Ice cream and refreshments will be available from 6:30 pm to 8:30 pm, in the church's community hall, for cooling down after the parade.