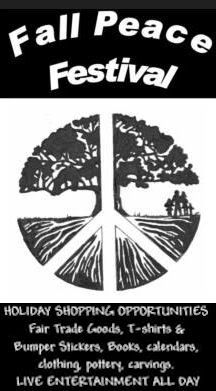 Oklahoma City's
28th Fall Peace Festival
will be held
Saturday
November 8, 2014
10 AM – 4 PM
in the
Downtown Civic Center
Hall of Mirrors.
Free and open to the public.
More than 50 booths and tables of social justice organizations and individual artists will display materials and sales items offering wonderful "holiday shopping opportunities." Homemade candles and soaps, fair trade goods from Central America and around the world, pottery, weaving, stained glass, fair trade coffee, calendars, books, etc. are offered. A Children's Activity Area will be supervised all day.
The Peace Festival celebrates the efforts of Oklahoma groups working for social justice, human service, civil rights, environmental sustainability and peace.
The Civic Center is located at 201 N. Walker in downtown OKC (map). Admission to the Festival is free and parking is free at street meters on weekends.
Registration for Display and Sales Tables
Table applications may be made by mail (see link at top of this page). Applications will be evaluated for appropriateness at the Festival, including availability of space. Cost of an 8-foot table for social justice groups is $50 for the day, payable when the application is approved and accepted. Half tables are also available for $25. Information needed includes:
Organization or group name
Relatedness to Festival mission
Contact person, mailing address
Telephone(s) and email address
Special needs (electricity on limited basis)
For more information call 524-5577.